Markilux wind Testing Of Awnings
Shade Solutions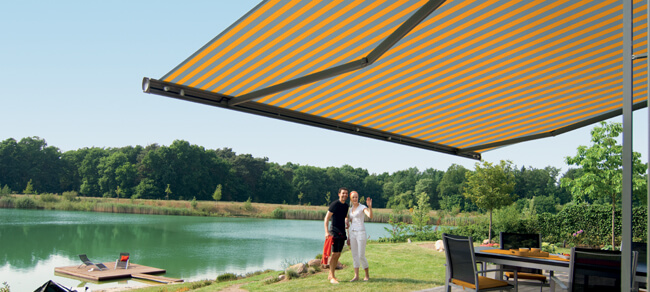 The Best Engineered, Most Thoroughly Tested & Safest Products In The Industry
Markilux products are engineered to meet and exceed the most stringent wind rating standards for awnings in the world – those set by the European Union. All Markilux products are guaranteed to withstand sustained wind speeds of up to 23 mph without being damaged, and up to 30 mph for many products.
But wind speed ratings don't tell the whole story. Markilux engineers test their products in a wind tunnel to prove and improve their designs – perhaps the only awning manufacturer in the world to do so. Here are a few of the remarkable results along with the videos of their wind tests:
Markilux 6000 cassette awning continued to function in winds up to 80 mph (130 kmh)
Markilux 860 cassette vertical blind continued to function in winds up to 112 mph (180 kmh)
The Markilux 620 blind with the ZIP System continued to function in winds up to 135 mph (220 kmh)
Markilux: Unsurpassed Engineering. Proven Durability. Unmatched Safety. Incomparable Style.
Our knowledgeable sales staff will help you select the best shade solution for your decor and performance requirements. For more information about Sensor-Controlled Automatic Operation, or any of our retractable awnings or exterior solar shade products, please call us at 650/685-6888 or send an email to info@markiluxawnings.com.