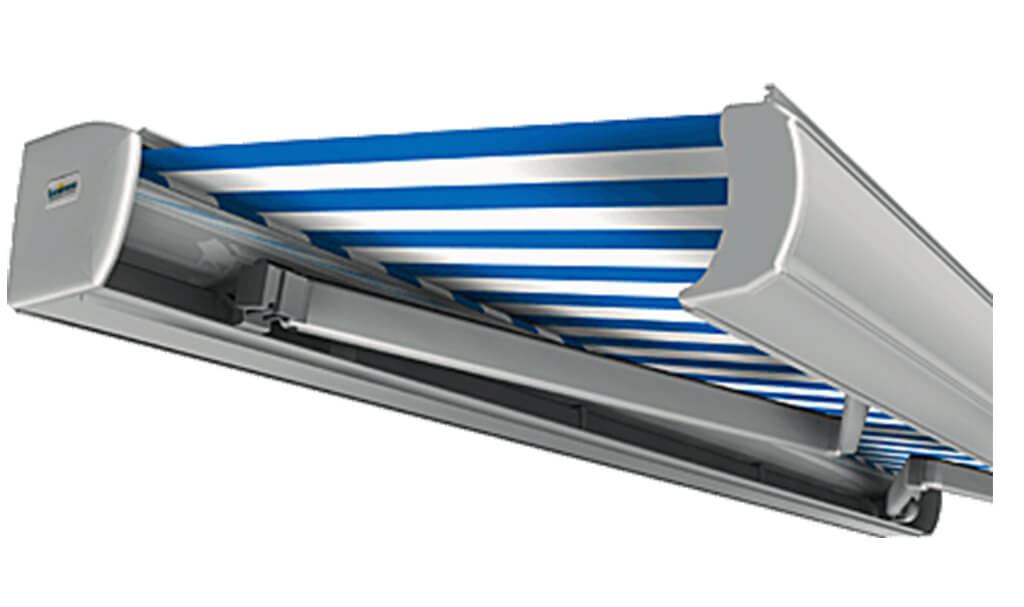 Cassette Awnings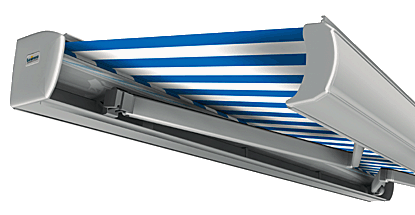 Family Kompakt
---
An easy-to-operate cassette awning incorporating proven technical features
The following models are available:
Family Kompakt Type C, closed on 3 sides
Family Kompakt Type D, closed on 4 sides, with unique protective
fabric casing
Fabric and components protected against moisture and weather.
Arm bracket of high-strength aluminium alloy.
Upper arm fork of forged aluminium.
Sturdy front profile with double hollow chamber and integral rain gutter.
Hinged arms of aluminium with plastic-coated double cables for an extremely long service life.
Rust-resistant pins in Teflon-coated bearings.
High-grade steel screws.
Technical features
Width
Up to 650 cm with 2 hinged arms
Up to 1300 cm, 2 units linked with 4 hinged arms
Up to 1950 cm, 3 units linked with 6 hinged arms
Arm lengths
150/200/250/300/350 cm
Special lengths on request
Arm lengths
150/200/250/300/350/400 cm
Special lengths on request
Drive
Electric motor fitted as standard, bevel gear available on request (price reduction).
On linked units always electric motor.
Special equipment
Sun and wind sensor, radio control.
Framework colours
– Silver anodized E6/EV1, small components powder-coated: silver RAL 9006
– White powder-coated RAL 9016
– Brown powder-coated RAL 8077
– Special coating possible in all RAL colours
Fabric
From our Lewens collection,
branded acrylic, spun-dyed
Fitting Options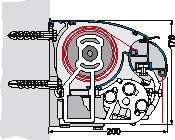 Wall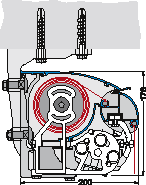 Ceiling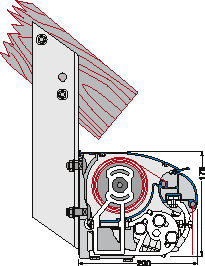 Rafter
---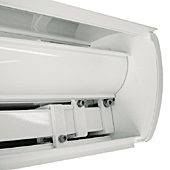 Fabric cover shell
The integral fabric cover shell offers an elegant solution for concealing the fabric roller.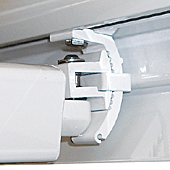 Front profile bracket
An adjustable bracket ensures the front profile is always vertical. A special mechanism ensures reliable positive closing when the awning is retracted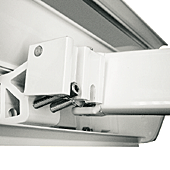 Arm bracket
Of extruded high-strength aluminium alloy, with supporting and high impact screw. Upper arm fork of forged aluminium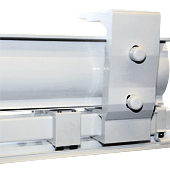 Back plate (Typ D)
Rounded design for a harmonious appearance from the rear. Protects the awning fabric.
Below it is the console tube, 40 x 40 x 2 mm,
with wall and ceiling consoles for secure attachment to wall or ceiling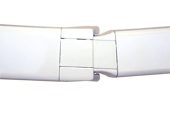 Hinged arm joint
The plastic-coated double cables are designed
for an extremely long service life:
–
no soiling of the greased cables caused by exposure to the environment
–
arm profile and cables of the same colour

The extremely high spring tension
of the hinged arms ensures a superbly taut sit of the fabric. No resting of the awning cloth on the arm joints.
Hinged arm joints feature a pin made
of high-grade steel