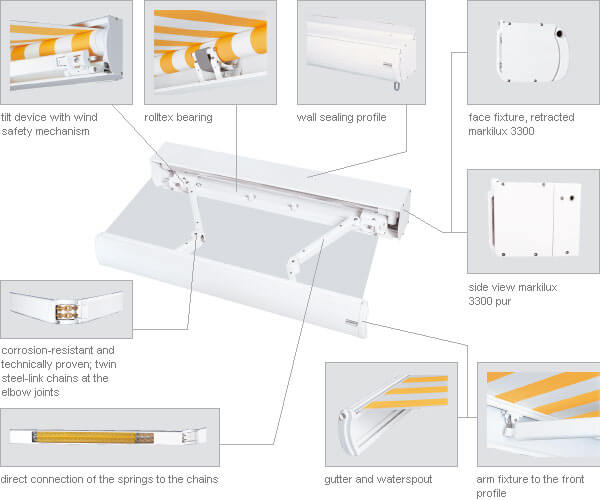 Markilux Awnings Balcony & Patio Awnings
The markilux with winning qualities.
Perfectly suited to commercial use.
Totally logical. Typically markilux.
Design
The robust cassette design and the snug fit of the wall seal make the markilux 3300 a favourite among commercial awnings. Water is channelled away by the twin rain gutter with drain to the side, both when the awning is extended and retracted.
Technical features
The awning is delivered in a pre-assembled condition. All screws and design elements are manufactured in corrosion-resistant stainless steel and the arms are stored in Teflon-coated bushes. The roller has an 85 mm diameter and can be removed from the front for easy maintenance.
Dimensions
The markilux 3300 is available in widths of up to 7 m or with a maximum drop of 3.5 m.
Cover
All markilux covers included in the balcony and patio awning portfolio are available for selection.
A valance is available as an optional extra.
Operation
Manual drive with a stainless steel winding handle, an electric motor and radio-control are available as optional extras.
Special Equipment
Sun & Wind Sensor
Markilux Heater (no brackets for direct fixture to the awning – face fixture only)
Motor drives and remote control operation