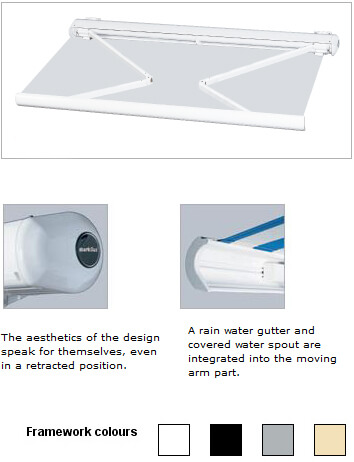 Balcony & Patio Awnings
The best-selling markilux with the elegant cassette.
Practicality and optical excellence – with a drop of up to 4 m.
Totally logical. Typically markilux.
Design
The powerful arms guarantee a particularly taut cover – and the differing lengths of the upper and lower arms make this cassette awning particularly stable even when completely extended. Despite its delicate appearance, the roller has an impressive 85 mm diameter. A wall mounting profile is available as an option. (see markilux 915)
Technical features
The arms and hinged joints are manufactured in extruded or drop-forged aluminium. All of the screws and design elements are produced in corrosion-resistant stainless steel – quality for numerous carefree summers. A wall mounting profile is available as an option. (see markilux 915)
Dimensions
The markilux 5005 comes in widths of up to 7 m or with a maximum drop of 3.5 m. Also available as the markilux 5000 with a 4 m drop, although the design specifications for this system do not include a cover protection profile.
Style
Elegant lines and the perfectly formed end caps make this markilux an eye-catcher even in its retracted position. The aesthetics of the extended awning, with its curved cover protection profile, are simply harmonious. A valance is available as an option.
Cover
All markilux covers included in the balcony and patio awning portfolio are available for selection.
Operation
Manual drive with a stainless steel winding handle, an electric motor and radio-control are available as optional extras.
Special Equipment
Sun & Wind Sensor
Markilux Heater
Motor drives and remote control operation
Shadeplus