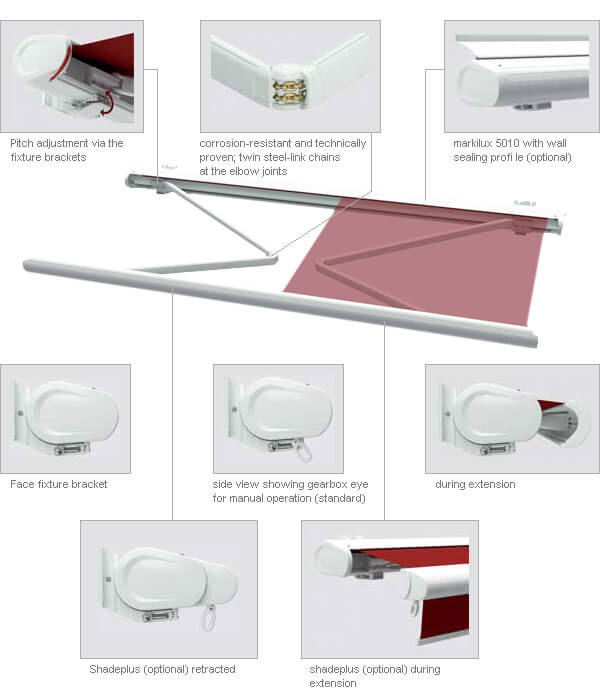 Markilux Awnings Balcony & Patio Awnings
The cassette awning – slim, strong and simply stylish
Totally logical. Typically markilux.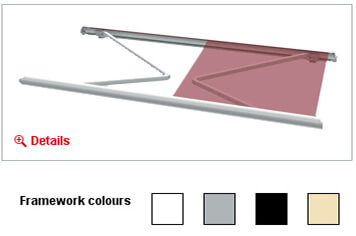 design features
The slim cassette awning with the elegant lines – from the design studio.
The cover profile is in the same colour as the cassette; This provides for an homogeneous appearance even when the awning is extended.
Attractive, rounded end caps complete the overall appearance of this slim cassette awning.
for long-lasting attractiveness the awning has been powder coated.
Attractive brackets; Design down to the last detail.
technical highlights
Because of its superior design the markilux 5010 belongs to the sturdiest and most stable of awnings on the market in spite of its slender shape.
Front profile with integrated gutter and hidden water drainage spouts.
When closed the folding arms are protected from the weather by the cassette.
The extremely sturdy awning construction makes it possible to shade even very large areas safely.
The 85 mm roller tube ensures the highest rigidity and the best possible cover winding characteristics even at the largest widths.
optional accessories
In the case of manual operation ease of use is ensured with the springassisted gearbox.
Hard-wired motor drive (optionally with automatic controls) for simple, relaxed operation.
Radio-controlled motor with handheld transmitter for ease of operation – and ergonomically crafted for ease of use.
The shadeplus creates an additional room on the patio. Protection from sun, wind and inquisitive glances in one.
Awning available in non-standard RAL colours
Special Equipment
Sun & Wind Sensor
Markilux Heater
Motor drives and remote control operation
markilux Vibrabox
Shadeplus