Balcony & Patio Awnings

markilux – a host of innovations.
The markilux 6000 is a cassette awning brimming with innovative ideas and new technologies
Design
Three different style lines – Club, Studio and Lounge – are perfectly matched to the range of styles seen in home architectures. The scope of design offers something for every taste, from the colorful through to the refined classical. Each line has its own range of colour and design options, which create individual accents to suit every preference.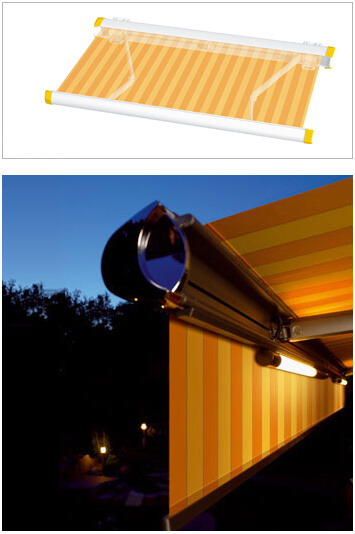 Construction
Die markilux 6000 is a cassette awning with a newfolding element in the arm hinge, aptly named the "bionic cord".
The latest highlight from the markilux-innovations team! This completely new technology ensures the friction-free, noiseless bending of the folding arms, every time.
Modular clip-on system
Yet another markilux innovation: the modular clip-on system for attaching equipment. This system allows you to add extras to your awning at a later date – long after your markilux has been installed.
Dimensions
The maximum dimensions of a single unit are 700 cm of width, with a drop of up to 400 cm. If a customer requests a wider system, it is possible to couple several units in order to achieve the over-all width required.
Tension
During the manufacturing process of all markilux 6000 awnings, the lengths of cover fabric are adhesive welded in the drop direction using an ultrasonic welding process. They are highly weather-resistant and durable because the adhesive bonding creates a surface free from vulnerable seams. This also results in an improved appearance. The highly compressed surface welding is resistant to water, light and tempera-ture fluctuations under all normal conditions.
Drives
The markilux 6000 is supplied with a gearbox and stainless steel winding handle as standard. Optionally electric operation is available and on request even the newly developed, beautifully designed markilux remote control is on offer.