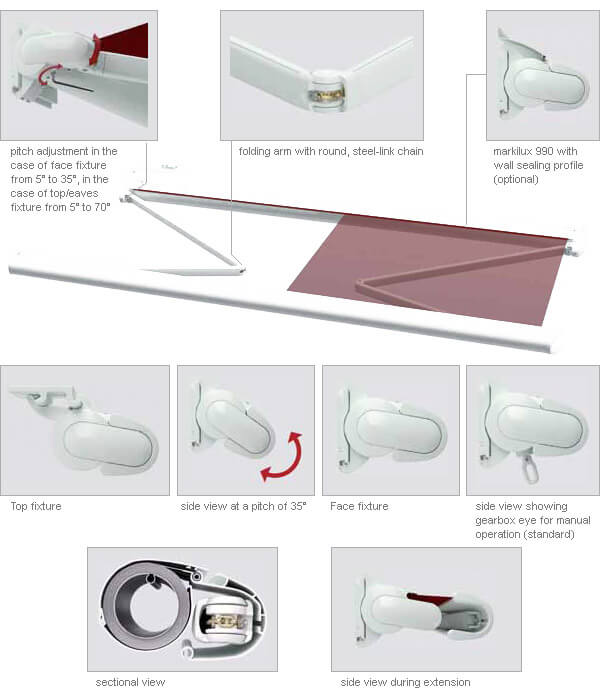 Markilux Awnings Balcony & Patio Awnings
The compact markilux cassette awning small, practical and functional
Totally logical. Typically markilux.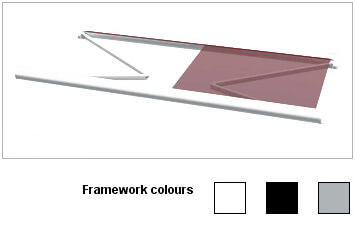 design features
Appealing overall appearance thanks to the torque bar-free construction and especially compact cassette, 125 mm in height
Created by renowned designers.
The special cassette shape surrounds the roller tube even when the awning is extended so lending an overall harmonious appearance.
for long-lasting attractiveness the awning has been powder coated.
awning covers made from acrylic yarns or sunsilk SNC with self-cleaning effect.
technical highlights
When the awning is closed the folding arms are protected behind the front profile.
Front profile with integrated gutter and hidden water drainage spouts.
The 85 mm roller tube ensures the highest rigidity and the best possible cover winding characteristics even at the largest widths.
Folding arms with perfected power transference by means of a round, steel-link chain.
Folding arms with drop-forged aluminium moving components and Teflon-coated bronze bushes, which provide superior stability and longevity.
optional accessories
In the case of manual operation ease of use is ensured with the springassisted gearbox.
Hard-wired motor drive (optionally with automatic controls) for simple, relaxed operation.
Radio-controlled motor with handheld transmitter for ease of operation – and ergonomically crafted for ease of use.
An easily connected radio-controlled sun and wind sensor guarantees comfort and protection even during your absence.
Wall sealing profile to cover the gap between awning and wall.
Special Equipment
Sun & Wind Sensor
Motor drives and remote control operation
Markilux Heater
markilux Vibrabox