Markilux Awnings Balcony & Patio Awnings

A masterpiece in brushed stainless steel.
Sheer class, pure quality.
Totally logical. Typically markilux.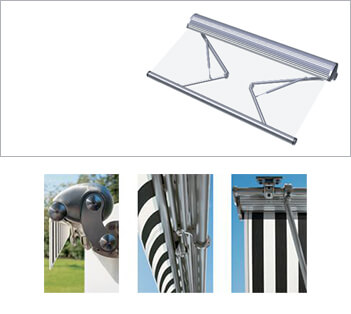 Design
The elegant, powerful gas tensioned arms guarantee a particularly taut cover – even when the awning is only partially extended. Despite its delicate appearance, the roller has an impressive 95 mm diameter, and the front profile and suspension tube are highly torsion resistant. The ES-1 is a cover cassette; and a stainless steel top gutter protects both the cover and roller across the entire awning length.
Technical features
The arms and hinged joints, all screws and design elements are manufactured solely in brushed V4A stainless steel: this material is resistant to the aggressive influences of nature. The arms are stored in Teflon-coated joint bushes.
Dimensions
The markilux ES-1 is available in widths of up to 6.5 m or with a maximum drop of 3.5 m
Style
The fine material and the elegant lines are fascinating. The perfectly formed end caps are available to order in stainless steel, copper or brass. The valance is included in the scope of deliverables.
Cover
All markilux covers included in the balcony and patio awning portfolio are available for selection.
Operation
An electric motor and radio-control are supplied as standard..
Special Equipment