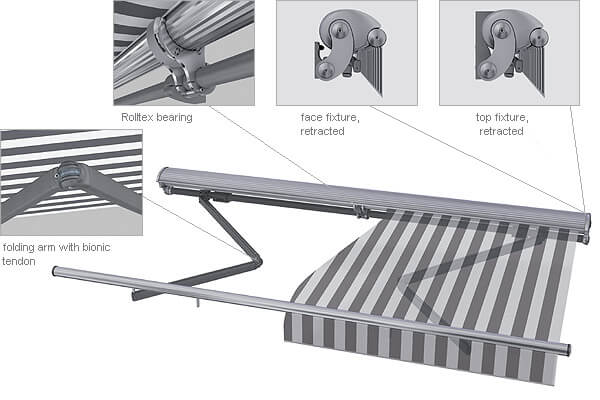 Markilux Awnings Balcony & Patio Awnings
perfection in design and technology
Today's classic choices in the world of awnings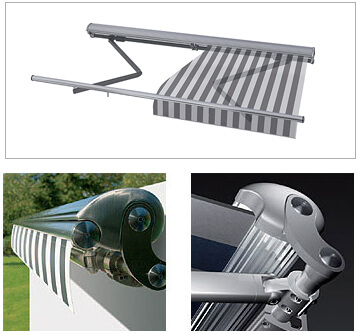 Inspired by the classic design of the markilux ES-1, markilux has developed the ES-X: it embodies the elegant form and clear lines of the design classic. Those parts exposed to the weather are, as with the markilux ES-1, all made from brushed stainless steel. New, however, is the innovative arm technology which uses a bionic tendon to create a tauter cover in combination with proven material components manufactured in soil-resistant, coated aluminium and steel. In this instance visual elegance is combined with technical perfection to create an awning which offers attractive value for money.
Technology
The markilux ES-X is a designer awning manufactured in semi gloss, marine-grade brushed stainless steel combined with other tried and tested materials. The torque bar, produced in powder-coated galvanised steel, ensures unbeatable stability. Likewise, the bionic tendons which are an innovation in aluminium folding arm technology. They guarantee optimum cover tension and enable the arms to fold without friction or noise. The folding arms and torque bar are protected by a dirt-resistant coating, the colour of which creates a fi ne contrast with the stainless steel. The coating protects the material from the weather and corrosion.
Dimensions
The markilux ES-X is available in widths of up to 6.50 m and a maximum projection of 3.00 m or a width of 6.00 m and a maximum projection of 3.50 m.
Covers
The markilux ES-X can be combined with all the fabrics from the markilux collection. All covers are manufactured with bonded seams using ultrasonic technology. This ensures that a homogeneous appearance is achieved, free of undesirable stitched seams. A valance complements the awning's appearance and is included within the scope of delivery.
Form
Like its archetype, the markilux ES-1, the ES-X is also a true masterpiece, exhibiting ageless design and perfect function.
Operation
The markilux ES-X is equipped with a radio-controlled motor and a remote control as standard.
Special Equipment
Sun & Wind Sensor
Markilux Heater