Balcony & Patio Awnings
With integrated halogen spotlights.
Totally logical. Typically markilux.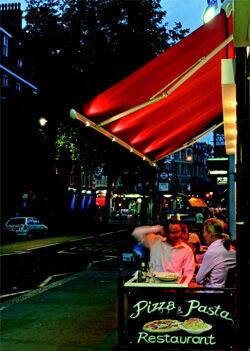 Design
The construction of the markilux 1550 is the same as the markilux 1500, but the design includes three or five swivelling halogen lights, integrated into the moving arm part.
Dimensions
The markilux 1550 is available in widths of up to 6.6 m or with a maximum drop of 3.5 m. Exceptionally wide systems are fitted with a rolltex bearing to prevent the cover from drooping.
Style
The brilliant style of the markilux 1550 has been distinguished with an iF Product Design Award. The elegant aluminium moving arm part closes together with the attractive top gutter of the semi-cassette in complete harmony.
Cover
All markilux covers included in the balcony and patio awning portfolio are available for selection.
Operation
Manual drive with a stainless steel winding handle, an electric motor and radio-control are available as optional extras.
Special Equipment
Markilux Heater
Sun & Wind Sensor