Balcony & Patio Awnings
The first awning that transforms into a gable.
Totally logical. Typically markilux.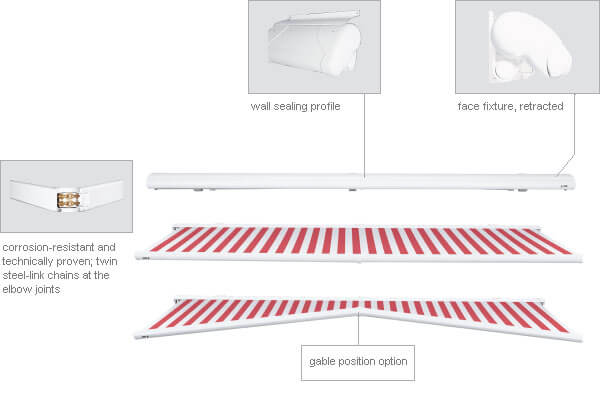 Design
This innovation bought to the awnings market is – with the exception of the extension mechanism – completely identical in design to the markilux® 1600.
Technical features
The moving arm part of the markilux 1600 skylife 2 is equipped with a clever joint mechanism, that allows the awning to be transformed into a gable by using simple grip handles: an ideal solution for adjustable sun protection – and perfect for rain drainage, even with a 0% awning pitch. With the skylife 2 providing greater headroom at its central point, it is a practical alternative for those sites with lower mounting points or larger projections.
Dimensions
The markilux® 1600 skylife 2 is available in widths of up to 6.6 m or with a maximum drop of 3.5 m. Exceptionally wide systems are fitted with a rolltex bearing to prevent the cover from drooping.
Cover
All markilux covers included in the balcony and patio awning portfolio are available for selection.
Operation
Manual drive with a stainless steel winding handle, an electric motor and radio-control are available as optional extras.
---

A wall mounting profile is available
as an option.
Individual accents can be added to the frame through a choice of sealing caps in various colours and matching awning covers.
---
Special Equipment
Markilux Heater
Sun & Wind Sensor
Motor drives and remote control operation
skylife