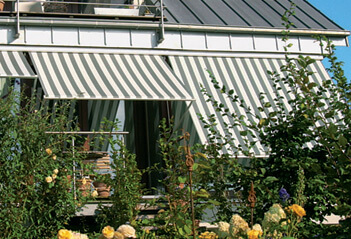 Vertical Cassette Blinds
Simply passing through: the drop-arm awning with added headroom.
For all those who seek reasonably priced sun protection for their patio windows and doors, with room for adjustment.
Totally logical. Typically markilux.
Cassette / mounting:
This supports your markilux and is particularly stable. The end-to-end profile ensures a light and individual mounting to a wall.
Cover:
All markilux awning covers can be used– it simply depends on how much light you would like to allow in.
Size:
Depends entirely on requirements – available in widths of up to 700 cm (Supplied with a motor as standard from 401 cm).
Mechanism:
Tensioning springs, which enable a friction-free movement of the auto-lift arms and guarantee a taut awning cover.
Operation:
The standard awning is operated manually fitted with a universal joint and winding handle with bayonet fitting. An electric motor (tubular motor with electronic limit switching) is available as an optional extra.
Special Equipment
Sun & Wind Sensor
Motor drives and remote control operation

Degree of extension
Maximum extension

Round or square? Just as long as it's markilux.
Every single markilux is a first-class product, and behind it lies a great deal of technical skill.
Here you will find some of the most important technical details, which will make your decision a little easier. more >>