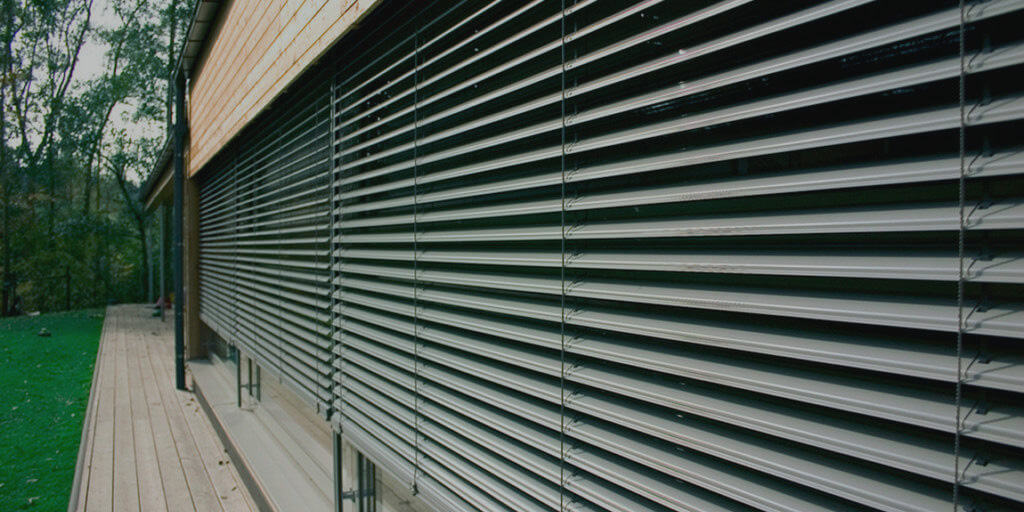 Design daylight with Helioshade ® HV80. These are the advanced exterior venetian blinds that provides optimal heat protection and unsurpassed light control for large vertical glass surfaces. They are a highly efficient shading system and are perfect for most vertical windows in domestic or working environments. Unlike roller shutters, The HV80 lets natural light and sunlight through whilst minimising uncomfortable hothouse effects, eliminating solar glare and in many cases the need for other internal window covering like roller blinds etc.
The modern contemporary look of the elegant louvres can can benefit building architecture, and can be manufactured in many custom colours. They can be set to any position and allow room temperature and light level to be perfectly matched to both user requirements and the building facade. When fully retracted HV80 provides a completely un-obstructed view.
This system also means you won't need to block out light in high glare situations and resultingly need to use artificial lighting to compensate.
Featuring stylish 80mm curved louvres with rolled edges for extra stability, Helioshade HV80 suits any external façade and comes in a range of modern designer colours.
Unaffected by extreme temperature changes, Helioshade HV80 external venetians reduce the sun's penetration by up to 90% – providing huge air conditioning cost efficiencies. Whether you are an architect looking for a solution to help attain a Green Star™ rating for an office block, or you're conscious about your own needs in the home –the Helioshade HV80 has your environmental concerns covered.
A new addition to the Helioscreen range, the motorised HV80 external venetian blinds are practical and robust – satisfying the most ambitious design demands of modern architecture.
FEATURES of HV80 exterior venetian blinds
3 year warranty
Width 650-4000mm
Maximumdrop 4000mm
Available in white, silver, dark silver, bronze and dark grey
Motorised blinds
Remote control option
Automatic control with optional sun and wind sensor
Integrates with building management systems.
SPECIFICATIONS
58 x 56mm galvanised steel headbox with 14mm extruded aluminium turning shaft
80mm wide curved, 0.45mm aluminium louvres with rolled edges for added strength
Fixing: galvanised top or face mounting brackets
Pelmet option: 120mm deep, depth equals height of stacked louvres
UV resistant polyester cords.
GUIDING OPTIONS:
2mm stainless steel cable guiding – sheathed in PVC for added anti-corrosion and noise reduction
18 x 36mm extruded aluminium side channel with noise reducing lining and bottom limit stopper
Adjustable fix brackets, cast zinc with aluminium adjustment piece. Adjust side guides from 55 to74mm from wall.
Collect the PDF Brochure for Click Here.