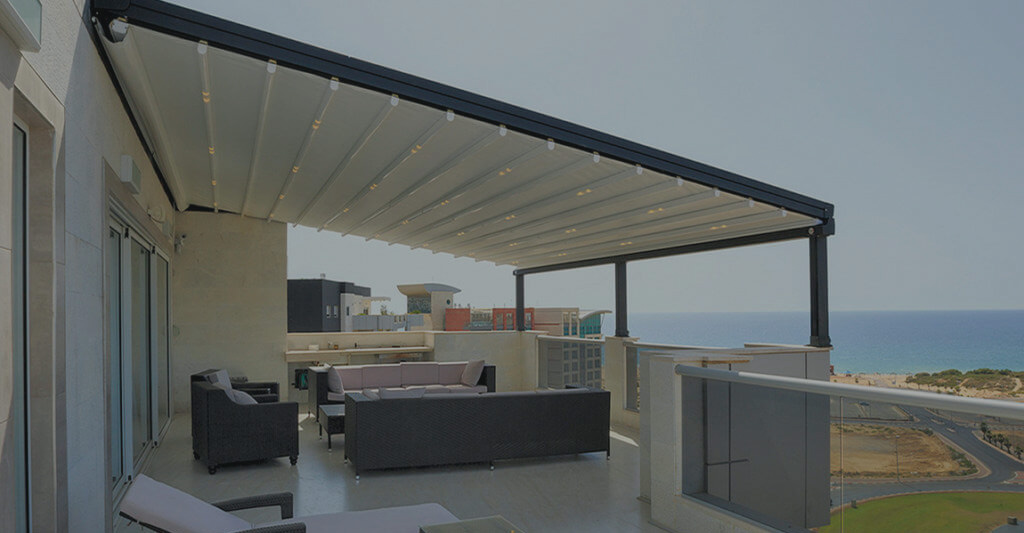 Here in Australia, we are lucky enough to have plenty of sunshine for much of the year. While in some instances it is nice to bask in the sun's rays, sometimes the heat and glare simply becomes too much.
Modern Australian homes often make use of a number of glass features, from large windows and skylights, through to glass roofs. They also tend to include an outdoor area for entertaining in order to make the most of our amicable climate. However, when sunlight becomes too intense, it can restrict the usage of these types of areas.
Here at Sunteca, we have the perfect sun control solution: the Varioscreen retractable sunroof. Helioscreen's most popular retractable roof system, this dynamic product allows natural light to pass through – whilst keeping out unwanted heat and glare. Fully retractable using either a manual crank or for more effortless control as a remote control motorised awning, you can fold it away in winter, or on overcast days.
Varioscreen is now available in models to suit flat glass roofs and sloping glass areas, and these screens do not compromise the aesthetic appeal of the building – nor the view from within. This retractable awning also comes in a non-transparent fabric for those looking for a greater level of protection, as well as options for wind sensors.
Sunteca offer a full range of motorised awnings. We will provide and install your preferred pick of motorised retractable awnings on your premise, whether this be your business or your residence. For example these can come as cassette awnings, or folding arm awnings.

FEATURES
3 year warranty for complete peace of mind
Maximum projection of 6 metres
Maximum width of 8 metres
Exceptional sun protection technology
High quality aluminium and corrosion-proof A2 steel components
Top or reveal mounting
Sun and wind sensor option also available
SPECIFICATIONS
Retractable roofs are a fantastic option for those who want to be able to enjoy their outdoor space all year round, without being restricted by the weather.
If you are looking for state of the art outdoor awnings or an effective sun protection solution, look no further than Helioscreen's retractable pergola systems. With a wide range of sizes and fabric types available, there is sure to be a product to suit your specific requirements. For more information, call Sunteca today on 1300 853 518.
| Fabric | Fabric Width | Cut on cross | Weldable | Application | Warranty | Cutting Method |
| --- | --- | --- | --- | --- | --- | --- |
| Helio 86 | 1.77m | Yes | Yes | Internal/External | 3 Years | Crush Cut |
| Helio 93 | 2.7m | Yes | Yes | Internal/External | 3 Years | Crush Cut |
| Helioshade 100 | 1.2m | No | Yes | External | 3 Years | Crush Cut |
Collect PDF Brochure for click.