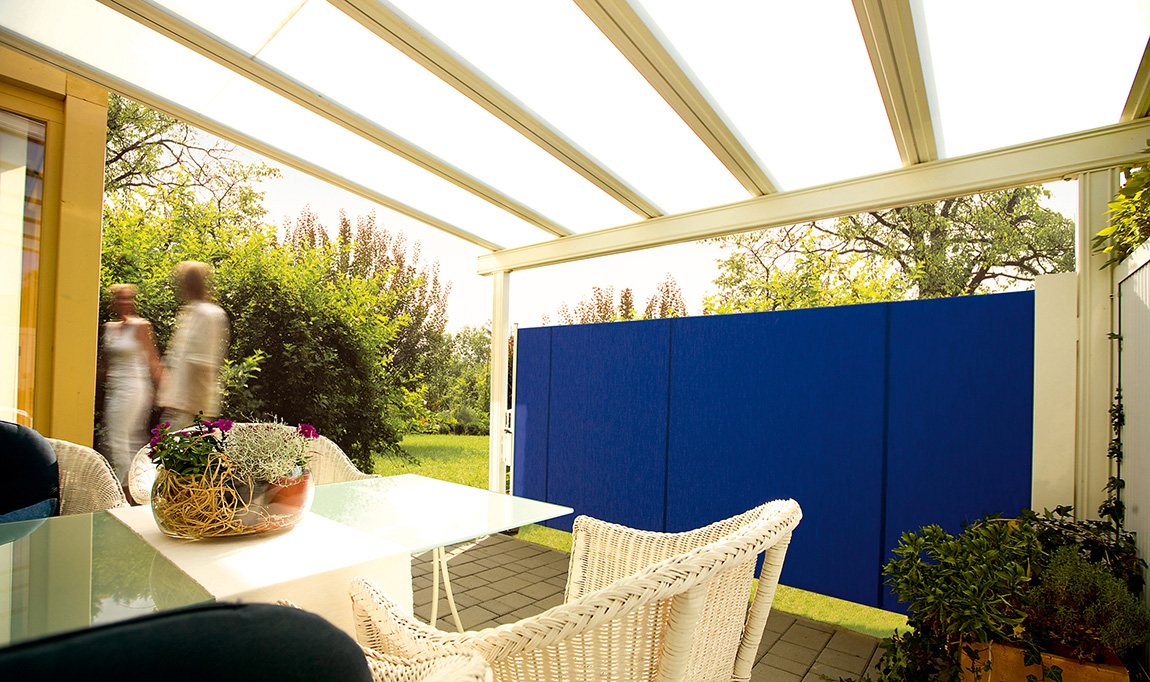 Create a private space with an attractive, retractable Sideline privacy screen
The Sideline Privacy Screen can customised to complement any external building façade and features a modern European-styled cassette design. Available in a wide variety of colours, high-quality corrosion resistant materials make Sideline a good-looking product that lasts.
Sideline privacy screens utilise Helioscreen's external fabrics – Helioshade 100, Helio 93 and Helio 86 – providing a wide choice of designer colour ways to perfectly suit your surroundings. With a custom powder coated frame, these privacy screens can be fully customised to suit your needs for total privacy.
Add sun and wind protection to apartment balconies, garden, patio, terrace or the outdoor area of your own backyard. With a durable Sideline privacy screen you can enjoy a high level of privacy from nosey neighbours or the general public.
A Sideline privacy screen can also act as a windbreak; perfect for those days when the weather is less than ideal, but you still want to enjoy being outdoors.
If you have small children or pets, a retractable privacy screen can offer additional peace of mind, knowing they can safely play in the backyard without being on display.
Functional and good-looking privacy screens
As well as providing extra privacy, a Sideline privacy screen can also act as an attractive design feature for your home. The sleek, European-styled cassette is available in a wide variety of colours to suit any building façade. Get in touch today for a free no obligation quote.
Flexible mounting options
SIDELINE is adaptable for any living area as the support at the far end of the extension can be floor or wall-mounted or installed using a lawn mandrel or concreted holder.
Discreet fittings
Special brackets allow the cassette to rest on the mounting surface – totally concealing mounting parts.
Secure locking
A child-proof lock avoids unwanted screen openings or closings.
Retraction aid
A swivel castor assists easy extension and retraction of the screen.
Sloped unit
The sloped design is a terrific way to add privacy and lateral protection to a Helioscreen folding arm awning.
FEATURES
3 year warranty
Adds lateral sun and wind protection
Perfect for privacy
Easy to install
Retractable and easy to operate
Straight unit maximum height 2100mm
Straight unit maximum projection 4000mm
Sloped unit maximum height 2500mm
Sloped unit maximum projection 4000mm
Sloped unit maximum angle 20°.
Collect the PDF Brochure for Click Here.